Most Recent Release: Conversations with Owls featuring Frank Kimbrough and Martin Wind
10/25 – Next Performance – Tonight at Beans in the Belfry in Brunswick!  I'll be playing with my friends Brian Litz on guitar and Scott Young on saxophone and a special guest on bass. Come check it out, it will be swinging!!!
There are a couple of really unique gigs coming up – Trio with Matthew Shipp/piano and Mat Maneri/viola.  This is a band I'm really excited to debut.  We will be at ShapeShifter Lab in Brooklyn on Nov 10 for one set only and then at An Die Musik in Baltimore on Nov 11.  These will be one of a kind performances.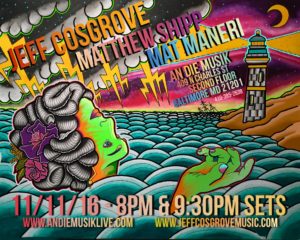 There are some exciting musical things coming in 2016…keep close!
Record news…
Conversations with Owls was named as one of 2015's best releases at All About Jazz!!!
Stacks of Stars from Conversations with Owls was named one of the 10 best songs from Frederick News-Post!!!
The first of five videos from a live performance with me + Matthew Shipp + William Parker: